Link Building Services
For English Speaking Sites
With a large inventory, our high quality, affordable link building services are ideal to grow your projects or meet client quotas through white-labelling. We'll check your link history to ensure we're providing fresh quality domains to your site. We'll run all the links past you for pre-approval to check you're happy with them before they go live, so you can order with confidence. Unsure? Check out our rankings vs our competitors with how many links we have!
With the largest inventory, our high quality, affordable link building services are ideal to grow your projects or meet client quotas through white-labelling. We'll check your link history to ensure we're providing fresh quality domains to your site. We'll run all the links past you for pre-approval to check you're happy with them before they go live, so you can order with confidence.






Why our link building services?
Since you've got here you probably understand the outreach process to some degree but have decided to outsource. Thankfully we absolutely love links and whilst you're exchanging coronavirus vaccine numbers and memes with your colleagues and friends, we're talking about that sexy domain we just found in your niche. Analogies aside, trying a new link building supplier can be daunting and we're all looking to get that sweet ROI from our businesses, why fix what isn't broken?
At Millenio we're always on the hunt for the domain that will set us aside from other agencies. We build strong relationships with bloggers but we also negotiate tooth and nail to get you these low prices. We don't just do competitor research, we crawl the web in search of those Amish-to-SEO sites to ensure we are always that one step ahead. What good is it doing everything your competitor does if you'll always be that one step behind? Over time we've absolutely nailed our processes which allow us to offer pre-approval, UK domains and just a generally amazing experience all for free.
It goes without saying the websites we use are genuine and independently owned. When picking domains for pre-approval we will always aim for the most relevant site with the most power as standard. Otherwise, feel free to select power in the order form and we will prepare links with more power and some relevance instead.
We do offer traffic guarantees on our links, think of it kinda like a bid adjustment on Adwords (If you know). It can help you get those conversions but your campaign will always do well without, we'll always do our best to maximise your return on budget.
If you're unsure about your strategy or would like a second set of eyes on your project, either leave us an email or book a free 15-minute call with our friendly team via the link above. Check out our FAQs for any other questions you might have.
How link building with us works
We run a few models that work for our clients based on their preferences in link building. You can order through the site as normal in the form of one-off links and subscribe and save, alternatively, you can work directly with us for personalised link building strategies, find out more here.
For ordering on-site either login to the portal and select what you want from our order pages, or follow the tiles such as niche edits and guest posts above to find what you need. Choose your links and follow the payment process, don't forget to select your free extras! Following your order, you will then need to add your anchors and URLs, which you can do at any time.
We'll send you some placements via the portal and email within 2-3 weeks of getting your anchors and you can let us know which you like and which you don't. Take advantage of unlimited revisions or your money back, yes we're that confident you'll like them.
Link building case studies
Nutriment
One of the largest UK raw pet food stores. Sceptical to link building, we were given a small budget which moved mountains over the past 2 years.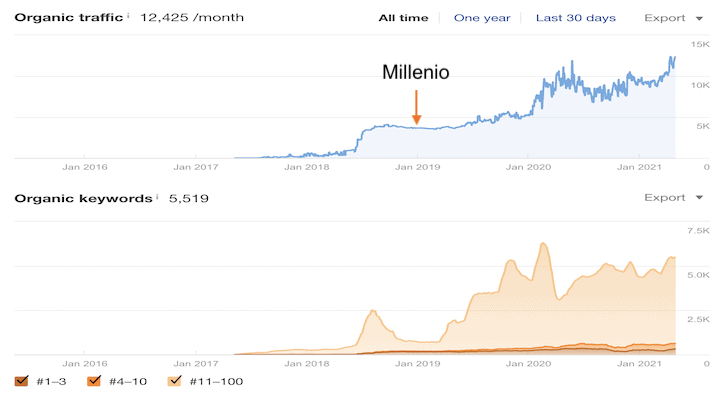 Mccarthy
An Irish lawyer firm based in Dublin. Saw massive gains after a few months of our niche-specific locational anchors.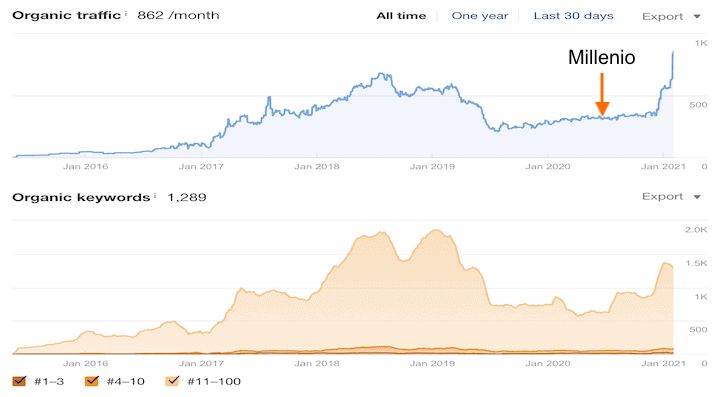 Meet the team
We've told you about how great our links are, but great links need a great team. With over 8 years of experience and untold hours of refined link building, we're happy with our skillset and our culture.

Page One SEO
David Saxton, Founder
I run an SEO agency and can't say enough about Millenio's link building services. The quality is better than the big names like Fat Joe, the prices are far more reasonable, the service and communication are spot on and the results are undeniable. Giant leaps in ranking increases across a variety of industries in a short space of time. Read more.

Digital Roo
Tom Blake, Founder
The links I get from Millenio are great, they understand my goals and I've seen fantastic gains on keywords that I really wanted to rank well for. The price is awesome and the quality is unspoken for, I would highly recommend them to anyone looking for a link building service they can trust.

Doctor 4 U
James O'loan, Managing Director
We didn't expect such growth in such a short time. Fantastic services all round, really easy to communicate with and seemed to share our passion for our business.
Do you have samples?
Feel free to email below if you would like to see some samples, also specify if you prefer niche or powerful domains and we will prioritise sending those.
Are these links safe?
Link building has always been known as a risky game to play, but specifically if you don't know where your links are coming from or if you are acquiring dodgy un-vetted links. All of the sites we get links from are owned by real people and their domains are vetted for any spam and tested on sites already. We can guarantee the safety of your domain from manual penalties when using our services.
Do you guarentee links?
All our links come with a 6 month guarantee, if the link is lost during this time it will be replaced with another in the same range, though most last for years.
Will the domains have traffic?
We don't touch domains with 0 traffic or 0 keywords, though you can pay additional to have links from domains with guaranteed traffic. However, we will always aim to present the best links for the budget.
What is the turnaround time?
We will get your links to you by Google sheet within 4 weeks, if this runs over for any reason we will let you know and give reason. There could be slow responses from bloggers, content delays or a large backorder, though we will aim to get them to you as soon as possible. If you use our subscription service we will add links to the sheet as they are created along with the status so you have a real time update on your order.
Are links do-follow?
Yes all of our links are do-follow.
Can I use any anchors?
Absolutely, the only ones we will turn down are foreign, above 50 characters, or potentially dangerous for your site. We will be in touch if this is the case.
Can you pick anchors for me?
Absolutely, just leave a message in the order chat or book a free strategy call with us and we'd be more than happy to help.
Do you accept every niche?
Everything but adult currently!
Can I change the link after placement?
Not particularly, though if you are unhappy with the placement please get in touch through our link building page contact form and we'll see what we can do.
What payment methods do you accept?
We accept Paypal so you can feel secure and card methods if you prefer.
Didn't answer your question?
Fill out the contact form below and we'll be in touch as soon as possible!